Blue Star foundation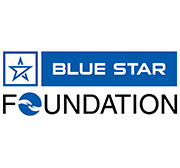 Blue Star Foundation, established in 1982, is a registered public charitable Trust of Blue Star Limited, and has been actively supporting philanthropic causes for over three decades now.
Blue Star Foundation's charter covers education of less privileged children, health/medical support to marginalised communities and poverty alleviation initiatives. The Trust supports these initiatives through various NGOs who are engaged with such causes.
The Foundation's activities are spread across the country, and donations are given to welfare institutions located in India only.
The organisations currently supported by Blue Star Foundation (BSF) include Jyot Bahu-Uddeshiy Samajik Sanstha, Thane towards vocational training opportunities for girls and adolescent health education; The Anchorage, Mumbai offering opportunities for education and vocational training for the mentally challenged; Ashray Akruti, Hyderabad towards a special school for children with varying degrees of hearing impairment; Aishwarya Trust, Chennai for corrective surgery for congenital heart defects in children; Mumbai Mobile Creches towards education and health initiatives for children of construction labourers; Indian Association of Blood Cancer & Allied Diseases, Kolkata for medical relief of cancer-affected patients; and several others.
In the past, BSF has also supported other able organisations like included St Jude India ChildCare Centres, Mumbai for holistic care in hygienic surroundings for children undergoing long durations of treatment for cancer; Seva Sadan Society, Mumbai towards residential and educational facilities for young girls in difficult circumstances; Kalinga Institute of Social Sciences, Bhubaneswar for all-round development of children from disadvantaged, indigenous tribal communities in Odisha; National Association of Disabled's Enterprises, Mumbai towards vocational training for physically challenged beneficiaries.
Mohan T Advani Centennial Scholarships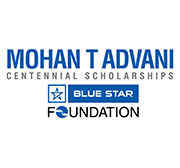 Mohan T Advani, Founder, Blue Star has always believed strongly in the cause of education, a powerful tool in transforming lives for a more promising future. Blue Star also encourages its employees to obtain additional qualifications to further their career growth, and provides financial assistance towards such education.
On the occasion of the Birth Centennial of Mohan T Advani in 2012, his family decided to pursue this cause close to his heart in the fields of engineering and architecture which are aligned to Blue Star businesses so that the Company can offer support beyond the monetary contribution. They made contributions which formed the seed money for Mohan T Advani Centennial Scholarships.
Instituted formally in 2013, The Mohan T Advani Centennial Scholarships by Blue Star Foundation, started out with 9 students, which has now grown to rendering financial assistance to nearly 40 undergraduate Mechanical (Production)/ Electrical/ Electronics engineering and Architectural students studying in Government recognised colleges. The scholarship beneficiaries are selected objectively on the criteria of merit and socio-economic background by an internal board comprising BSF and senior HR officials from the Company. Besides sponsoring tuition fees and hostel fees (wherever applicable), the initiative provides holistic support for these students, inclusive of mentorships by senior Blue Star officials and internships to prepare them for future work life. The scholarship helps the children to dedicate their energy to their first responsibility as students towards academic goals, relieving them and their families from the burden of taking loans as well as the stress of managing finances required to procure a professional degree and better their future.
A detailed plan for the coming 5 years has been put in place for the scholarships to grow further, covering many more students in these fields across geographies and reputed educational institutes in India.